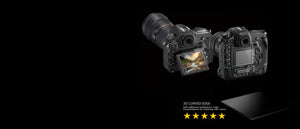 GGS PREMIUM SCREEN PROTECTOR
Premium screen protection for your Nikon camera made of real glass.

This system allows to place the protective glass without using glues or anchors.
100% ACCURATE | ATTACH AND CORRECT WITHOUT STRESS | COLORFAST | NO BLISTERS | 100% TOUCH FUNCTION | OVER 95% LIGHT TRANSMISSION | ANTI-FINGERPRINT
GGS Screen Protector offers you the perfect protection against scratches, bumps and fingerprints, so that your camera is always well protected.
Thanks to the 6-layer principle plus protective frame and a degree of hardness of 8H+, the hardened, tempered glass optimally protects your display. With a thickness of just 0,3mm, it lies almost invisibly on your display and still offers perfect protection without blistering.
The touch function is fully retained and you can continue to operate your camera without any problems. The screen protector is self-adhesive and can be removed without leaving any residue if you ever want to change it. The light transmission of over 95% and an impact resistance of 12kg/cm² make the premium display protection glass the ideal accessory for your camera.
Adhesive-free
Easy to apply, easily correctable
FIND COMPATIBLE ACCESSORIES FOR YOUR NIKON CAMERA