Select the service you need here.
SAFE & SECURE, TRACK & TRACE, FAST PROCESSING
Benefit from negotiated contracts with our shipping service providers. Choose in the checkout area DHL return label received by email + return shipment. Outward and return shipping are then equipped with Safe & Secure insurance. You enjoy comprehensive insurance protection for your devices in the event of loss or damage. Your package can be tracked seamlessly using Track & Trace.
We process your service order quickly, easily and transparently.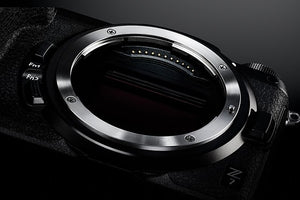 Larger bayonet diameter
Mirrorless cameras
Reduced back focus. Highest imaging performance.
Nikon Z cameras
Nikon accessories
Find suitable Nikon accessories
Find compatible accessories for your Nikon camera quickly and easily. Choose your Nikon camera model and discover exactly the right accessories for your Nikon.
Find suitable accessories NOW
Everything you need and much more